If video below is unavailable from YouTube, watch it in hooktube here, 
You can get your EMF protection products, Health Restore and Antinano products from my eshop here.
Download the pdf version here.
Notes:
Somethings I think may edify and strenghten
17 Now the Lord is that Spirit: and where the Spirit of the Lord is, there is liberty
Who also hath made us able ministers of the new testament; not of the letter, but of the spirit: for the letter killeth, but the spirit giveth life.
So don't be religious—it gets you no where  and sustain the Spirit of the Lord where by you are free—–Just a thought—this way no institution can enslave with dogma or doctrine
---
Links:
(http://augmentinforce.com) 
Tony's Show on simplecast:
Tony's Contact details:
email: independz@yahoo.com
Phone number for consultation with Tony:
+1 5 1 9 9 7 7 5 3 5 1
---
Bryan 396 data and Research on nano-bio nanotech nano poisoning:

https://www.minds.com/Bryan396/blogs
---
Support Bryan 396 in Patreon:
https://www.patreon.com/Bryan396
---
Aroy Mak's Channel and information on health and current events 
https://www.youtube.com/watch?v=aEIv3jdKpE4&t=430s
Yannis' interview with Shay 
https://www.youtube.com/watch?v=LgmUFXOpbVA&feature=youtu.be
---
Shay's channel 
https://www.youtube.com/channel/UCjDfMMzsGQTH1sOVTD59D-Q
Shay's website (in Hebrew)
---
Other Link
Abstact: Superstructured colloidal materials exploit the synergies between components to develop new or enhanced functions. Cohesion is a primary requirement for scaling up these assemblies into bulk materials, and it has only been fulfilled in case-specific bases. Here, we demonstrate that the topology of nanonetworks formed from cellulose nanofibrils (CNFs) enables robust superstructuring with virtually any particle. An intermixed network of fibrils with particles increases the toughness of the assemblies by up to three orders of magnitude compared, for instance, to sintering. Supramolecular cohesion is transferred from the fibrils to the constructs following a power law, with a constant decay factor for particle sizes from 230 nm to 40 μm. Our findings are applicable to other nanofiber dimensions via a rationalization of the morphological aspects of both particles and nanofibers. CNF-based cohesion will move developments of functional colloids from laboratory-scale toward their implementation in large-scale nanomanufacturing of bulk materials.
To read more click on the picture
---
Ultraviolet LEDs prove effective in eliminating coronavirus from surfaces and, potentially, air and water
As COVID-19 continues to ravage global populations, the world is singularly focused on finding ways to battle the novel coronavirus. That includes the UC Santa Barbara's Solid State Lighting & Energy Electronics Center (SSLEEC) and member companies. Researchers there are developing ultraviolet LEDs that have the ability to decontaminate surfaces — and potentially air and water — that have come in contact with the SARS-CoV-2 virus.
"One major application is in medical situations — the disinfection of personal protective equipment, surfaces, floors, within the HVAC systems, et cetera," said materials doctoral researcher Christian Zollner, whose work centers on advancing deep ultraviolet light LED technology for sanitation and purification purposes. He added that a small market already exists for UV-C disinfection products in medical contexts.
To read more click here
—–
Also, Facility Solutions Group (FSG), has a very informative article on the same topic: 
For decades, the world has been harnessing ultraviolet (UV) light as a tool. Its power to sterilize has made it essential to the drinking water of billions of people. Research laboratories operate powerful UV lights to clean germs from sensitive equipment. Hospitals and medical facilities use UV light to disinfect and decontaminate surfaces and implements.
But why? What makes UV light so special? What is UV light, even, and how is it different from "normal" light? Most importantly, how does it work to sterilize, clean, and disinfect?
What is UV light?
Ultraviolet light is, literally, beyond the bluest light our eyes can see. Whereas visible light waves have a wavelength anywhere between 380 to 740 nanometers, ultraviolet only reaches as high as 400 nm, and drops as low as 10 nm. That takes essentially all UV light out of visual range.
How does UV light kill germs?
On the spectrum, UV light is subdivided into three smaller bands: UV-A (long-wave), UV-B (middle-wave), and UV-C (short-wave). UV-A has the longest wavelength and is closest to the visible part of the spectrum. UV-C has very short wavelengths and is therefore extremely energetic.
Read whole blog article  from FSG here
---
---
Measures purportedly enacted to stop the spread of coronavirus in Wisconsin have been overturned by the state's Supreme Court, which ruled that the orders violate the law and cannot be enforced.
The state's highest court issued a 4-3 ruling describing the restrictions as "unlawful, invalid, and unenforceable." The decision comes after Republican lawmakers sued Department of Health Services Secretary-designee Andrea Palm, after she unilaterally extended the state's "Safer at Home" emergency order in mid-April. The measures were first implemented in March and were set to expire on May 26.
Wisconsin has already started to ease restrictions, allowing golf courses, public libraries and arts and crafts stores – all initially deemed "non-essential" – to reopen. The ruling appears to nullify the distinction between essential and non-essential businesses. The Tavern League of Wisconsin, a bar and tavern trade association, told its members that it was now legal to open their doors to customers.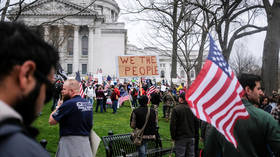 ---

---
https://www.liveleak.com/view?t=sAts4_1589408811
---