If video below is unavailable from YouTube, watch it in  hooktube here.  The show from 2020/06/27 starts at 58′:02″
You can get your EMF protection products, Health Restore and Antinano products from my eshop here.
Download the pdf version here.
---
Get your ready made for your, antinano devices (pulse generators, buckets, triangles)  here
Get EMF blocking for your protection textiles, clothes phone cases  here
Get Grounding and Earthing products here
---
Notes:
PureBulk Supplements:
Get 10% Discount using Tony's link 
If customers make purchase via this affiliate link, the discount code ANTHONYPANTALLERESCO will be automatically applied.
---
Links:
(http://augmentinforce.com) 
Tony's Show on simplecast:
Tony's Contact details:
email: independz@yahoo.com
Phone number for consultation with Tony:
+1 5 1 9 9 7 7 5 3 5 1
---
Bryan 396 data and Research on nano-bio nanotech nano poisoning:

https://www.minds.com/Bryan396/blogs
---
Support Bryan 396 in Patreon:
https://www.patreon.com/Bryan396
---
Aroy Mak's Channel and information on health and current events 
https://www.youtube.com/watch?v=aEIv3jdKpE4&t=430s
Yannis' interview with Shay 
https://www.youtube.com/watch?v=LgmUFXOpbVA&feature=youtu.be
---
Shay's channel 
https://www.youtube.com/channel/UCjDfMMzsGQTH1sOVTD59D-Q
Shay's website (in Hebrew)
Three Heart Church Youtube Channel
https://www.youtube.com/channel/UCg1-KtTGus1zOrRaITRyk5w
Three Heart Church website
http://www.threeheartschurch.org/
---
Other Links
 Verbage from a Happy camper in regard to mask–shes a tad Pissed
https://twitter.com/RexChapman/status/1275912010555932672
---
AIR AIR —WE cant breathe–there is a connection to floyd george and now the rest of us who cannot breathe— we are being choked out by the law!!!! 
https://banned.video/watch?id=5ef3eb10672706002f2db985
Wearing A Mask Is Dangerous! Watch This Video!
Don't miss this shocking report as Owen exposes the dangers of wearing a mask on a regular basis!
---
LANSING (WJRT) (6/25/2020) – As employers around the U.S. implant microchips in workers to track productivity, the Michigan House passed a bill making them voluntary in the state.
The bill passed Wednesday prohibits employers from requiring workers to accept a microchip implant.
"With the way technology has increased over the years and as it continues to grow, it's important Michigan job providers balance the interests of the company with their employees' expectations of privacy," said State Rep. Bronna Kahle of Lenawee County, who sponsored the bill.
Read full article here
---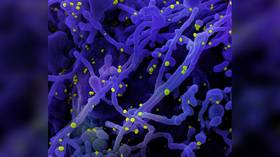 A cell infected with SARS-COV-2 virus particles. © National Institute of Allergy and Infectious Diseases / Instagram
Coronavirus transforms the infected cells in a highly unusual manner, forcing them to grow long, protruding branches, which penetrate multiple healthy cells at once, a new study has found.
Scientists took a closer look at the effects of SARS-CoV-2 – the coronavirus that causes Covid-19 – through a powerful microscope at the National Institutes of Health laboratory in the US and the University of Freiburg in Germany. 
The virus makes the infected cells sprout multi-pronged spaghetti-like 'tentacles' reaching out for several still-healthy cells nearby. The virus seems to use these branching structures, called filopodia, like syringes to prod other cells and inject them with a viral load, a study published in the journal Cell reports.
"There are long strings that poke holes in other cells and the virus passes through the tube from cell to cell," Nevan Krogan, director of the Quantitative Biosciences Institute at University of California San Francisco and leader of an international group of scientists, told the Financial Times.
"Our hypothesis is that these speed up infection," Krogan explained.
Read full article here
---
Toxic metals and autophagy
---
Metal nanoparticles and microbial  synthesis 
---
Silver nanoparticle toxicity 
---
Advancing risk assessment of engineered nanomaterials: Application of computational approaches
---
Aerotek Syndrome