Things to do to Assist and defend
You will need:
Zinc chloride  DNA Protection
Copper chloride –  SOD, and Biocide Protection
(iYannis Note: a video on how to make copper and zinc chloride here for the zinc chloride you will need zinc oxide, that you can buy it here  )
Iodine –  Immune support 
Selenium Liposome – Protect DNA
Retinol Palmitate – DNA Protection                                     
Ascorbic acid – to reverse telemere damage
Rosemary extract with Black Tea DNA Protection
equal Parts Cobalt chloride DNA support (iYannis: or vitamin B12 that contains cobalt)
Apigenin may help to prevent oxidative damage to the body's endogenous DNA.           
Epigallo-Catechin-Gallate (EGCG) may protect the body's endogenous DNA from damage (including the damage inflicted by exposure to Ultra-Violet Radiation).         
Luteolin may help to prevent oxidative damage to the body's endogenous DNA.       
Oligomeric Proanthocyanidins (OPCs) may help to prevent damage to the DNA content of Cells.
Pycnogenol may help to prevent damage to the DNA content of Cells (due to the OPC content of Pycnogenol).
Quercetin may protect the body's endogenous DNA from breakage and oxidation (by chelating (removing) Ferric Iron from the body)
Rutin may help to prevent oxidative damage to the body's endogenous Deoxyribonucleic Acid (DNA).   
NAC Protects DNA
Acetyl l carnitine Protects DNA
Niacinamide Dna Protection
4Thieves  vinegar immune protection
Essential oils Siberian fir, balsam fir,  white thyme, Oregano, cinnamon, Clove, Cardamon Bay, cajeput 
Static Discharge  – Strong disengaging operating System
EMP in combination with the static discharge to shut down and disengage the operating system
---
Links from 2021/04/12
Michigan is now displaying their murdering activity 
---
Tiny  Machine learning giving peripherals ( robots) the ability to increase the ability to learn and access and then react
---
Going from GMO to GEBot in the food supply 
---
Neuromorphic interface–speed and integration making a more efficient killing machine—imagine a bipedal or quad pedal bot on a hunt for people who are off grid –it would assess remember and anticipate— imagine that  remember hydra—when heracles ( hercules) had to kill this multiheaded demon eventually he would have to cut the head and burn the neck at its roots  —pay attention!! 
---
Money Denied and then supplied—alot of social programs in respective countries have diminished because those moneys allocated to social safety nets  were not being transferred to social programs toward the agenda of China/UN take over 
---
The Need to network is more so ongoing now then ever before—if in canada of all places is denying a minister or parishioners the right of assemblying which is the linchpin of democracy because it all starts with God—then its all going to be a matter of time before your basic fundamental rights will not even exist even in privileges—the people of faith will now have houses meetings or secret meetings where by bibles will be brought into with each other and services and fellowships will be done in ways that will not be in the open everyone needs to get to know each other while we can and from there go and sustain contact–it may come to a point whereby all common wealth will form sustained thriving
This is interesting if you injected you get aid if not you re left to die 
Video
---
Its begun the injectibles are causing mutations by interacting with the host and other injectibles which the cdc and other agencies are not acknowledging 
Training nurse Sari Roos prepares a dose of Pfizer/BioNTech vaccine against coronavirus disease (COVID-19) to teach her air bubble technique in Laakso hospital in Helsinki, Finland March 11, 2021. Picture taken March 11, 2021.
---
Official Stats of the toxicity of the injectables 
https://2020news.de/erschreckende-statistik-impfnebenwirkungen-jetzt-amtlich/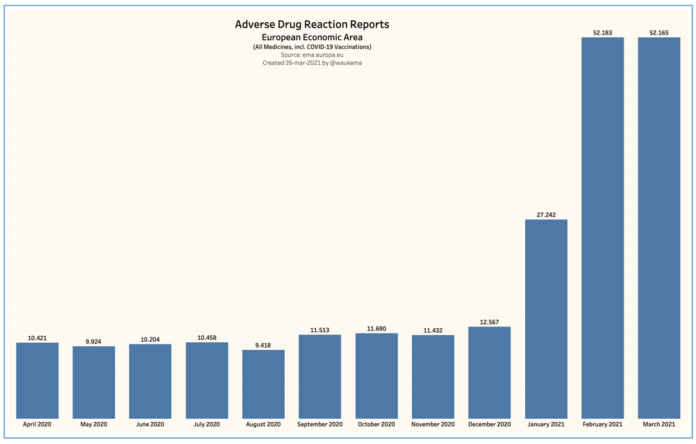 ---
Start dehydrating lunch meats –cans of tuna without the soybean oil add salt and garlic powder dehydrate potatoes and any root vegetable add salt and or sugar–dehydrate eggs or buy in bulk gelatin  potato powder or flakes–dehydrated milk– canned milk
111 erie street North in front of town hall  Protest Friday April 16
---