Things to do to Assist and defend
You will need:
Zinc chloride  DNA Protection
Copper chloride –  SOD, and Biocide Protection
(iYannis Note: a video on how to make copper and zinc chloride here for the zinc chloride you will need zinc oxide, that you can buy it here  )
Iodine –  Immune support 
Selenium Liposome – Protect DNA
Retinol Palmitate – DNA Protection                                     
Ascorbic acid – to reverse telemere damage
Rosemary extract with Black Tea DNA Protection
equal Parts Cobalt chloride DNA support (iYannis: or vitamin B12 that contains cobalt)
Apigenin may help to prevent oxidative damage to the body's endogenous DNA.           
Epigallo-Catechin-Gallate (EGCG) may protect the body's endogenous DNA from damage (including the damage inflicted by exposure to Ultra-Violet Radiation).         
Luteolin may help to prevent oxidative damage to the body's endogenous DNA.       
Oligomeric Proanthocyanidins (OPCs) may help to prevent damage to the DNA content of Cells.
Pycnogenol may help to prevent damage to the DNA content of Cells (due to the OPC content of Pycnogenol).
Quercetin may protect the body's endogenous DNA from breakage and oxidation (by chelating (removing) Ferric Iron from the body)
Rutin may help to prevent oxidative damage to the body's endogenous Deoxyribonucleic Acid (DNA).   
NAC Protects DNA
Acetyl l carnitine Protects DNA
Niacinamide Dna Protection
4Thieves  vinegar immune protection
Essential oils Siberian fir, balsam fir,  white thyme, Oregano, cinnamon, Clove, Cardamon Bay, cajeput 
Static Discharge  – Strong disengaging operating System
EMP in combination with the static discharge to shut down and disengage the operating system
---
Links from 2022/06/03
1 God is our [b]hope and strength, and help in [c]troubles, ready to be found. 2 Therefore will not we [d]fear, though the earth be moved, and though the mountains fall into the midst of the sea, 3 Though the waters thereof [e]rage and be troubled, and the mountains shake at the surges of the same. Selah. 4 Yet there is a [f]River, whose stream shall make glad the City of God: even the Sanctuary of the Tabernacles of the most High. 5 God is in the midst of it: therefore shall it not be moved: God shall help it [g]very early. 6 When the nations raged, and the kingdoms were moved, God [h]thundered, and the earth melted. 7 The Lord of hosts is [i]with us; the God of Jacob is our refuge. Selah. 8 Come and behold the works of the Lord, [j]what desolations he hath made in the earth. 9 He maketh wars to cease unto the ends of the world, he breaketh the bow, and cutteth the spear, and burneth the chariots with fire. 10 Be [k]still and know that I am God, I will be exalted among the heathen, and I will be exalted in the earth. 11 The Lord of hosts is with us; the God of Jacob is our refuge. Selah.
---
Spin spraying Silica Lead and Silver—and you wonder why you're hurting and have headaches now you know 
The Ministry of Health has been publishing and updating the list of biocides
to be used against the new coronavirus, authorized and registered in Spain in accordance with the UNE-EN 14476 standard, which evaluates the virucidal capacity of chemical antiseptics and disinfectants. In particular, due to their special effectiveness, some biocides established in main group 1 of article 1.1 of Royal Decree 830/2010, of June 25, which establishes the regulations governing training to carry out treatments with biocides, are specified.
---
A mock about being a Crisis Actor for higher—because al we are seeing all around us is crisis actors being put in front of a camera —since Hollywood has taught us  to be desensitized we can not distinguished the BS from BS  
https://gab.com/IncorrectNews/posts/107482672271568041
---
This is a Doctor that works with endocrinology—–no one should see her 
https://gab.com/BeachMilk/posts/108413541196749830
---
Water harvesting—another look and reminder—what happens if the grid goes down and water is cut off—some ideas  
https://www.science.org/doi/10.1126/sciadv.abf3978
---
Is Putin being assassinated—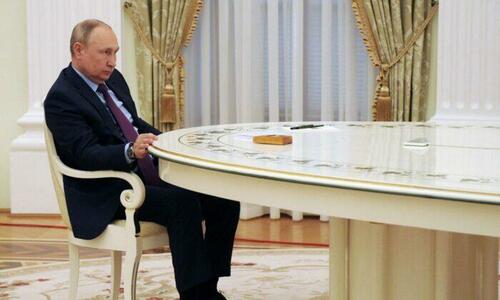 ---
Another Farm being Burnt to the ground 
https://minnesota.cbslocal.com/2022/06/03/wright-county-egg-farm-fire/
---
WAR in stages
4 And there went out another horse, that was red, and power was given to him that sat thereon to take peace from the earth, and that they should kill one another, and there was given unto him a great sword.
5 [d]And when he had opened the third seal, I heard the third beast say, Come and see. Then I beheld, and lo, a black horse, and he that sat on him, had balances in his hand.
6 And I heard a voice in the midst of the four beasts say, A [e]measure of wheat for a penny, and three measures of barley for a penny, [f]and oil, and wine hurt thou not.
7 [g]And when he had opened the fourth seal, I heard the voice of the fourth beast say, Come and see.
8 And I looked, and behold, a pale horse, and his name that sat on him was Death, and Hell followed after him, and power was given unto them over the fourth part of the earth, to kill with sword, and with hunger, and with death, and with beasts of the earth