Things to do to Assist and defend
You will need:
Zinc chloride  DNA Protection
Copper chloride –  SOD, and Biocide Protection
(iYannis Note: a video on how to make copper and zinc chloride here for the zinc chloride you will need zinc oxide, that you can buy it here  )
Iodine –  Immune support 
Selenium Liposome – Protect DNA
Retinol Palmitate – DNA Protection                                     
Ascorbic acid – to reverse telemere damage
Rosemary extract with Black Tea DNA Protection
equal Parts Cobalt chloride DNA support (iYannis: or vitamin B12 that contains cobalt)
Apigenin may help to prevent oxidative damage to the body's endogenous DNA.           
Epigallo-Catechin-Gallate (EGCG) may protect the body's endogenous DNA from damage (including the damage inflicted by exposure to Ultra-Violet Radiation).         
Luteolin may help to prevent oxidative damage to the body's endogenous DNA.       
Oligomeric Proanthocyanidins (OPCs) may help to prevent damage to the DNA content of Cells.
Pycnogenol may help to prevent damage to the DNA content of Cells (due to the OPC content of Pycnogenol).
Quercetin may protect the body's endogenous DNA from breakage and oxidation (by chelating (removing) Ferric Iron from the body)
Rutin may help to prevent oxidative damage to the body's endogenous Deoxyribonucleic Acid (DNA).   
NAC Protects DNA
Acetyl l carnitine Protects DNA
Niacinamide Dna Protection
4Thieves  vinegar immune protection
Essential oils Siberian fir, balsam fir,  white thyme, Oregano, cinnamon, Clove, Cardamon Bay, cajeput 
Static Discharge  – Strong disengaging operating System
EMP in combination with the static discharge to shut down and disengage the operating system
---
Links from 2022/06/27
2nd Peter 1:3-4 3[d]According as his [e]divine power hath given unto us all things that pertain unto [f]life and godliness, through the [g]acknowledging of him that hath called us unto glory and virtue.—4 [h]Whereby most great and precious promises are given unto us, that by them ye should be partakers of the [i]divine nature, in that ye flee the corruption, which is in the [j]world through [k]lust.
---
Vaccine claims were based on  wishful thinking
---
PM tides to murder—and he's still a PM???
"A chief court clerk order was made as a result of the Commissioner of Lobbying redacting Trudeau's name from material evidence in an RCMP investigation. Complying with Chief court clerk order would prove the Lobbying Commission redacted the Trudeau name from the transcript to conceal a finding that Justin Trudeau broke the law."
As reported by Presscore, Trudeau "responded by paying the Office of Commissioner of Lobbying $400,000 to obstruct/defeat Barry Shermansuit & a court hearing that was to be held February 2018 to address the OCL refusing to comply with a court  order."
---
The harper Sell out I am still going through it —it's a complete betrayal of canadian sovereignty
Withdrawal or Denunciation
The Agreement remains in force for a period of 15 years. After this period, either Party may at any time terminate this Agreement by giving at least one year's written notice to the other Party. For investments made prior to the date that the termination of the Agreement becomes effective, the provisions of the Agreement remain in force for a further 15 years.
Disputes between the Contracting Parties 1. Any dispute between the Contracting Parties concerning the interpretation or application of this Agreement shall, as far as possible, be settled by consultation through diplomatic channels. 2. If a dispute cannot  be settled within six months, it shall, upon the request of either Contracting Party, be submitted to an ad hoc arbitral tribunal
---
China can make the rules as it goes along so even of Canada wanted out it can change the rules in such away to penalize Canada  that it could literally destroy its economic infrastructure beyond recovery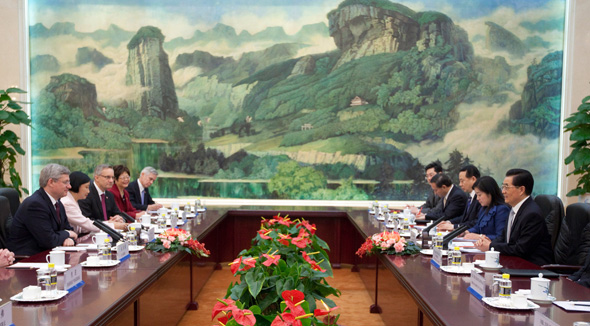 – is that it allows disputes about how laws and regulations or even court decisions have been made, to be decided outside of the Canadian courts. So they're decided by international arbitrators at the option of the investor…and the China-Canada investment deal and many of these other investment treaties … give the power, and quite immense power, to the investor to challenge any decision that Canada would make, whether by the Canadian Parliament, or a provincial legislature, by the Supreme Court of Canada or a lower court, or by Cabinet or some low-level government official.
Put it this way, the process is not independent in the way that most Canadians would think of a judicial process.
---
LNP Gene delivery— a  Biological hard drive with many compartments that can carry terabytes of data in each lipid waiting to be allocated to its destination and then activated to release its payload
https://www.ncbi.nlm.nih.gov/pmc/articles/PMC5006671/
---
AI to think and act for itself around Nuclear power plants—what happens if they get hacked???
---